Come work with us!
GoFormz is at the forefront of the digital forms industry. Trusted by thousands of companies worldwide, GoFormz is committed to helping businesses of every size and industry modernize the way they work.
A career at GoFormz is an exciting opportunity to solve challenging problems with a fantastic team. We pride ourselves on our transparency and integrity, striving to ensure each and every employee has an equal opportunity to succeed and contribute their ideas.
We are always looking for talented individuals to join our rapidly growing team. Explore our open positions and available benefits below!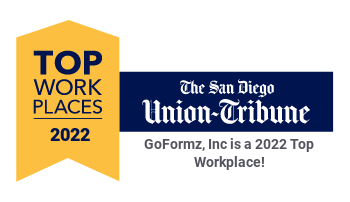 Current openings:
Engineering
Life at GoFormz is pretty great.
Here's what you'll get:
A fantastic team that works hard and has fun
We pay well – at or above market. Plus, you'll get equity in the company.
Employee medical and dental paid by the company; you just cover vision.
4 weeks (160 hours) accrued paid vacation in your first year.
Options to work from home or from our vibrant office in downtown San Diego where we provide complimentary parking or a monthly MTS pass.
401(k) with company match
We care about your physical health. Our office is equipped with automatic sit/stand desks, plus you'll get a company-paid membership to the Broadway Athletic and Swim Club located in the same building.
Everyone has the best hardware for doing their particular job. You tell us what that is.
We have a fantastic team that gets stuff done and is fun to work with!
The environment is fast-paced, so you will see the results of your work immediately.
You will have plenty of opportunities to use and learn cutting-edge technologies.